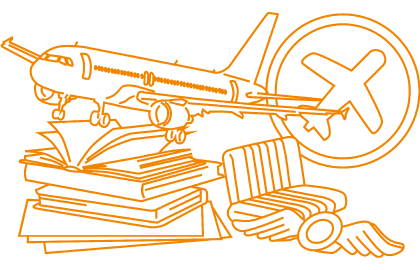 Increase your chances to work in Airlines!
The objective of this course is for the applicant to acquire the necessary aeronautical knowledge to meet the requirements for an airline transport pilot ground theory.
You'll receive:
No boring class! You'll learn from the experienced instructors who flew thousand hours around the world and you'll discussing the real-world case studies to increase your knowledge on Airline Transport Pilot.
10 classroom meetings scheduled within 25 days and 2 days of final exam.
Online Stage Check (Computer Based Exam).
Final exam by DK-PPU (Directorate General of Civil Aviation, Ministry of Transportation – Republic of Indonesia).
By completing this training, you'll increase your chances to work in Airlines Register now / call (+62) 812-9736-2058.
Next Class on 11 September and 09 October 2017.
To follow this course, you must fulfill the pre-requisites:
The applicant must be able to read, speak, write, and understand the English language, be at least 18 years of age, and must hold either a commercial with an instrument rating for airplane single or multi-engine land.
Minimum requirements to get your Airline Transport Pilot Ground Theory:
This is the time necessary to qualify for Part 141 operations, meeting the 157 hours of ground instruction and self-study. The student should feel comfortable performing each task in all previous modules before progressing to the next stage.
Meet ATP Ground Theory Instructors:
Chief FlyBest Flight Academy 141: Capt. Imron Siregar
ATP Home-room Instructor: Capt. Sudiman R. Noto
Instructors:

Capt. Dharmadi
Capt. Taufiq M. Sabur
Capt. Ardy M. Almatsir

Guest Instructors:

Capt. Christian Bishara
Capt. Dani Toligi
Capt. Fajar Nugroho
Gerry Soejatman
Baron Hussein
Register now
/ call (+62) 812-9736-2058