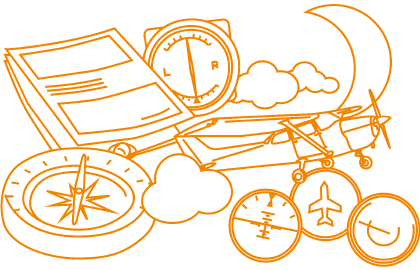 Instrument rating refers to the qualifications that a pilot must have in order to fly under instrument flight rules (IFR). For most private pilots, the most significant value of flying under IFR is the ability to fly in instrument meteorological conditions (such as inside clouds).
You must fulfill the pre-requisites to follow this course:
The student must be able to read, speak, write, and understand the English language with minimum TOEIC score 500, meet the physical standards for a second-class medical certificate, and possess either a Private Pilot or Commercial Pilot certificate with an Airplane category and Single-Engine Land class rating.
Minimum requirements to get your Instrument Rating Airplane:
The time necessary includes meeting,
| | | |
| --- | --- | --- |
| | | |
| 50 hours of ground | 20 hours flight instruction | 20 hours in AATD |
This is a minimum time—many factors play into the finishing flight-time: frequency of flying, cooperative weather, airplane and instructor scheduling, and lapses in the flight-training process. The student should feel comfortable performing each task in all previous modules before progressing to the next stage.